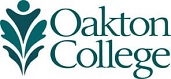 Oakton student wins Skyway poster competition
(April 26, 2017) Oakton Community College student Joshua Stewart (Park Ridge) took home first place honors in the Illinois Skyway Collegiate Conference poster contest hosted by Elgin Community College April 21. His poster, "pH and the Effects on Biofilm Formation with Pseudomonas aeruginosa," was tops in the biological sciences category. 
Chicago resident Frank Lato's poster, "Pyoveridine Quantitation and Biofilm Formation in Pseudomonas aeruginosa," and Naivie Sinfleur's (Evanston) "Effects of Ag Nanoparticles on Pseudomonas aeruginosa Biofilm Surface Attachment" poster also were notable in the category.
"I am thrilled that Josh won first place in the biological sciences category," said Suzanne Ziegenhorn, Oakton assistant professor of biology. "The biology judging was very close with the other two Oakton students presenting very well."
Four Oakton students--Rahim Sajwani (Niles), Harry Budge (Chicago), Eduardo Jimenez, Jr. (Lincolnwood), and Abhay Shah (Des Plaines)--presented their poster, "Baking Exhaust Emission Control and Heat-Water Recovery,"  in the engineering category. Their poster documented their research project examining a real-life commercial bakery.
"Congratulations to each of these talented Oakton students, who represented both their work and Oakton tremendously well," added Dean of Science and Health Careers Ruth Williams.