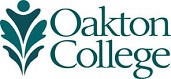 des plaines, skokie
According to the International Labor Organization and Walk Free Foundation, an estimated 24.9 million victims are trapped in modern-day sex trafficking.
Des Plaines
Celebrate the dream...the purpose ... the legacy of Martin Luther King Jr., featuring Bryant K. Smith.
Des Plaines
Business Book Author series featuring author Tim Calkins.
Des Plaines
Seeking students, employees, and community members that identify as female.
Skokie
Internships can improve your résumé and job skills, provide real-world experience, and open the door to future employment.
Des Plaines
Led by Mark Olen, instructor of music, Jazzin' Around features classic and contemporary favorites, with a little something for everyone.
Des Plaines
Presented by Christian Picciolini, author of "White American Youth: My Descent into America's Most Violent Hate Group—and How I Got Out."
Skokie
Sponsored Oakton's Educational Foundation and Emeritus program, offering high quality programming for adults age 55 and older.
des plaines, skokie
Qualifying students complete their first two years of coursework at Oakton — and are guaranteed admission to UIUC to complete their four-year degree.
Des Plaines
The Lasting Impact of Early Connections: Recognizing the Value of your Work with Children, Families, and the Profession