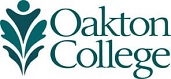 Des Plaines
This juried art competition, featuring student artwork, runs through April 28, 2018.
Des Plaines
Students from Oakton, Wright, and Harper present their papers, examining Orwell's "1984."
Des Plaines
Enjoy an extraordinary concert experience and get your tickets early for this annual favorite!
Des Plaines
Get involved in a campus-wide health and wellness initiative funded by the Oakton Educational Foundation.
Des Plaines
A staged reading, inspired by the true story of early stirrings of the American gay rights movement.